29 October 2017

Happy Halloween. Here is my latest wallpaper, free to all to download and use as your desktop image. These are triangle tiles, inspired by the season's candy corns and eyes of jack-o-lantern, but I plan to use this wallpaper throughout November. I love orange and this color scheme matches what I'm trying to accomplish with my cubicle space at work. Have a great Halloween and Thanksgiving (only 3 weeks away!).
by Robert Perry
---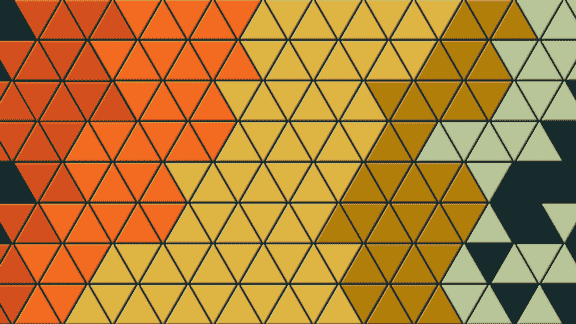 Select and download the wallpaper shaped and sized for your monitor's resolution:
Aspect ratio 4:3 1024 x 768 | 1600 x 1200
Aspect ratio 8:5 1280 x 800 | 1680 x 1050 | 1920 x 1200
Aspect ratio 16:9 1366 x 768 | 2560 x 1440
When the image appears in your browser, right click on it and save it to your desktop pictures folder, or if an option, simply choose Set as Desktop Background.
Ready to jump into the Christmas spirit? My free desktop wallpaper of Vintage Santa Claus is also still available.
---