22 July 2017

For fall, I wanted to focus on reading, or the plight of literacy and the seemingly diminishing public access to literary materials for those experiencing poverty. Now, I know there are some incredible television shows on right now, like Hulu's The Handmaid's Tale. And soon, I hope, we'll be reconnecting with our friends in Alexandria, the recently ravaged neighborhood of AMC's The Walking Dead. But how great would these TV programs be if they did not first have the framework of their well written and expertly drawn books? Often, good films will encourange me to read the novels if I hadn't done so already. Have you noticed that unlike watching a director's vision playout on screen, the stories in books happen inside you? You are more there; sometimes you are so connected to the protagonist, it's like it's happening to you. A descriptive author can make their readers use their senses in imagination that often challenges film media.
Anyway, ultimately I encourange everyone to read. I notice that after reading, I do better at my job, I do better at conversing with others, and my vocabulary is increased. If you haven't read a book lately, make a time in your day for it: an hour with your morning coffee; on your lunch break; or on your commute to work if you are taking mass transit.
As a reminder for yourself, and to show your support for local libraries and literacy in general, download my free colorful autumn wallpaper and display it on your monitors and laptops. Read more and have a beautiful season.
by Robert Perry
---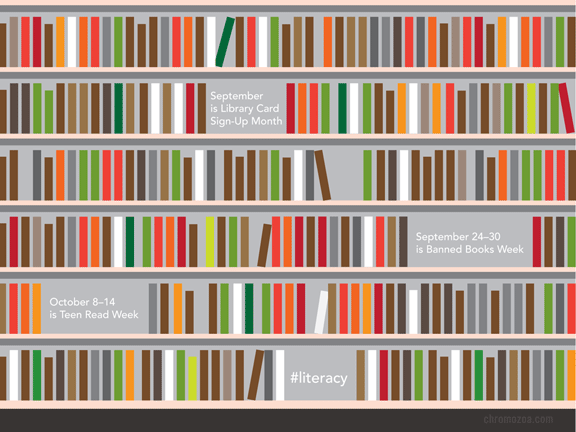 Select and download the wallpaper shaped and sized for your monitor's resolution:
Aspect ratio 4:3 1024 x 768 | 1600 x 1200
Aspect ratio 8:5 1280 x 800 | 1680 x 1050 | 1920 x 1200
Aspect ratio 16:9 1366 x 768 | 2560 x 1440
When the image appears in your browser, right click on it and save it to your desktop pictures folder, or if an option, simply choose Set as Desktop Background.
My free desktop wallpaper of Exeter's vintage citrus labels is also still available, if you are interested.
---